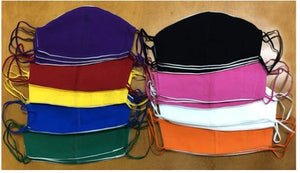 Custom single sided masks:
Pocket Hexagon. These face masks contain 2 layers of fabric: a cotton interior with a pocket cut to be able to insert your own filter in, and a polyester exterior 
Reversible masks:
2-Layer Hexagon features a white poly/spandex blend sublimation printable surface on both the front and back with black strings.  
3-Layer Hexagon is reversible and printable as well on both sides and features and added 3rd layer in the middle that is cotton for extra protection.  
Color inside masks:
Single-sided with color inside and string match. See color below
-Yellow
-Pink
-Red
-Black
-Orange
-White
-Blue
-Green
-Purple

Masks can be worn pointy side up or pointy side down. Printing is done with pointy side down unless otherwise stated. Standard size:  4.5" tall x 8.5" wide
Please note that custom pens, cigar pokers, and luggage tags ship within 7-10 business days. Custom trays, coasters, tumblers, mugs, glassware, journals, all Greek swag, all travel bags & accessories ship within 11-21 business days. All Sales are final because all items are custom made. To discuss issues please contact us via our contact form or hello@soulbeadz.com